During the COVID-19 epidemic, the people of Mull and Iona have rallied together to help one another on a spectacular level.  Like the rest of the UK, the islands' residents must stay at home, which is uniquely challenging compared to the mainland.  At present, due to the COVID-19 precautions, the ferries can only be accessed for essential services by locals as all non-essential travel is not permitted.
Our remote islands share a population of around 3,000, with both islands highly dependent on tourism for their economies.  However, community spirit is truly alive and well on Mull and Iona, with volunteers providing essential services and businesses that depend on tourism for their income giving generously to those in need. Here's how we have come together while staying apart, with the help of our tourism businesses:
Accommodation Providers
With key workers and visiting staff potentially requiring a safe place to self-isolate away from their families, local self-catering accommodation providers were asked to consider volunteering free accommodation for these workers. Local businesses responded fantastically to this, with over 30 properties being volunteered across the island within days. So many generous businesses volunteered, it is not possible to list them individually, but they are all very much appreciated.
Distilleries
Whitetail Gin and Tobermory Distillery have both separately created anti-bacterial hand sanitisers, using the alcohol from their own distilleries, which is helpful at killing enveloped viruses. Their sanitisers are created using the World Health Organisation recipe.
"The response from the community of Mull has been nothing short of remarkable and a special mention must go to all those who have helped with the components, delivery and distribution of sanitisers. Having lived and worked on Mull for over 15 years we know the importance and vital roles that everyone plays in a small community like Mull and we wanted to help." – Jamie Munro from Whitetail Gin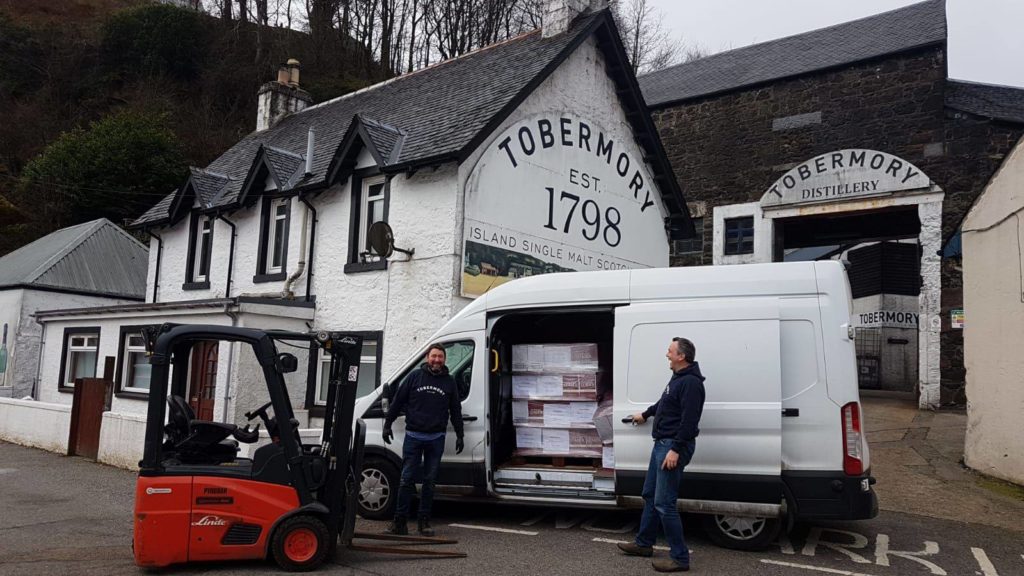 Soap Shop
Isle of Mull Soap Company donated 1000 of their all-natural ingredient soaps to island residents which are being distributed through our local Co-op in Tobermory. There is an optional donation for which all proceeds go to Mull and Iona Community Hospital. Isle of Mull Soap Company is also offering free delivery anywhere in the UK at the moment, with no minimum order.
Biscuit Factory
Our local biscuit manufacturer, Island Bakery, is sending out a special non-profit biscuit care package through their website. These can be gifted to hospitals, care homes and food banks across the country and is a fantastic way of showing appreciation for workers on the frontlines of this crisis and those in need.